Voices & Choices
Swarthmore Students Intern at FairVote/Rep2020
FairVote and Representation2020 hosted four Swarthmore students for a week-long externship where they get to be part of our team and learn how FairVote works. Here, Anna Garner, Anna Scheibmeir, Ava Shafiei and Morgin Goldberg reflect on their experiences and explain what drew them to our organization.
Anna Garner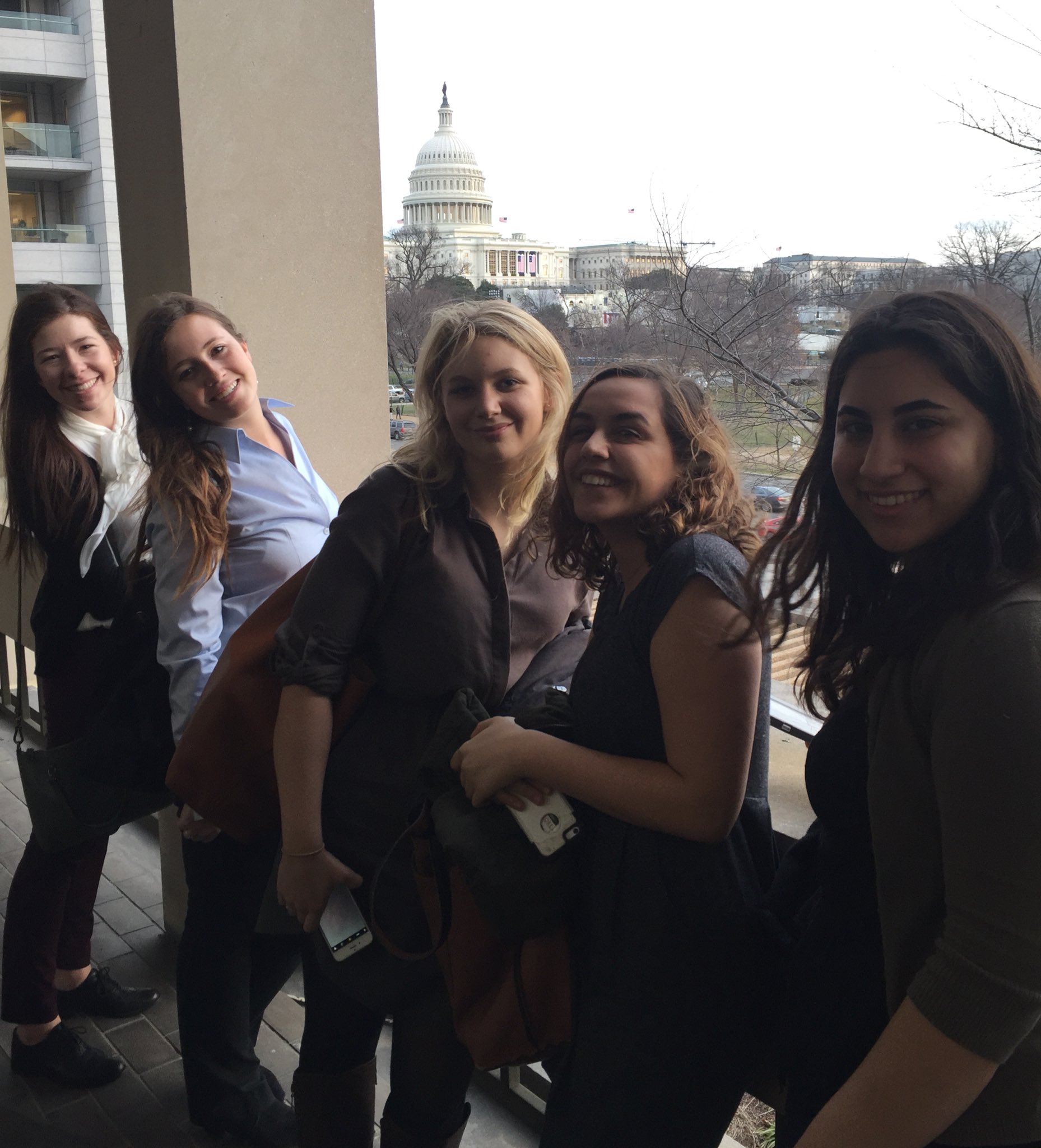 Hi my name is Anna! I am from Mercer, Pennsylvania and am a current student at Swarthmore College.  
As a child, politics and government were always interests of mine, specifically the role of women in government. (My favorite book as a child was A is for Abigail.)  Being raised in a small, conservative town only fueled my interest in politics and women's representation as I found myself constantly debating my peers and questioning the status quo. At Swarthmore, the systematic underrepresentation of women at all levels of government has continued to shock and outrage me.  Even in my political science classes, women are regularly outnumbered by males and are often heard from less.  As a woman interested in a politically related career, this is a dismal reality and one that I would like to change.  Therefore, FairVote was a natural fit for me.
I plan to major in political science and minor in English literature.  I am also interested in film and media studies.  I hope to focus my study of political science on American government.  Outside of the classroom, I work for Swarthmore's online daily newspaper, The Daily Gazette, as the Arts and Features editor and serve as a board member for the student run, Kitao Art Gallery. I am passionate about making the arts and the humanities accessible and believe that Steinbeck's East of Eden should be required reading for everyone.  In my free time, I like to go for runs, watch The West Wing, and eat a lot of peanut butter.  I love all things politics and news related and have volunteered for a few campaigns including: the Hillary Clinton campaign as a campus fellow, John Fetterman for Senate, and Judy Hines for PA State Representative.  After Swarthmore, I am interested in pursuing law school or graduate school for government or public policy.  
In my externship I researched women's representation in Nevada, which is the most improved state in terms of gender parity.  Yay! It was also Alice Paul's birthday during my extern week, so the other externs and I made fun videos celebrating Alice Paul.  Overall, I have really appreciated learning about practical ways to address many of the issues, such as underrepresentation of women. Check out Rep2020 on Twitter to see more of the exciting projects that I worked on!
Anna Scheibmeir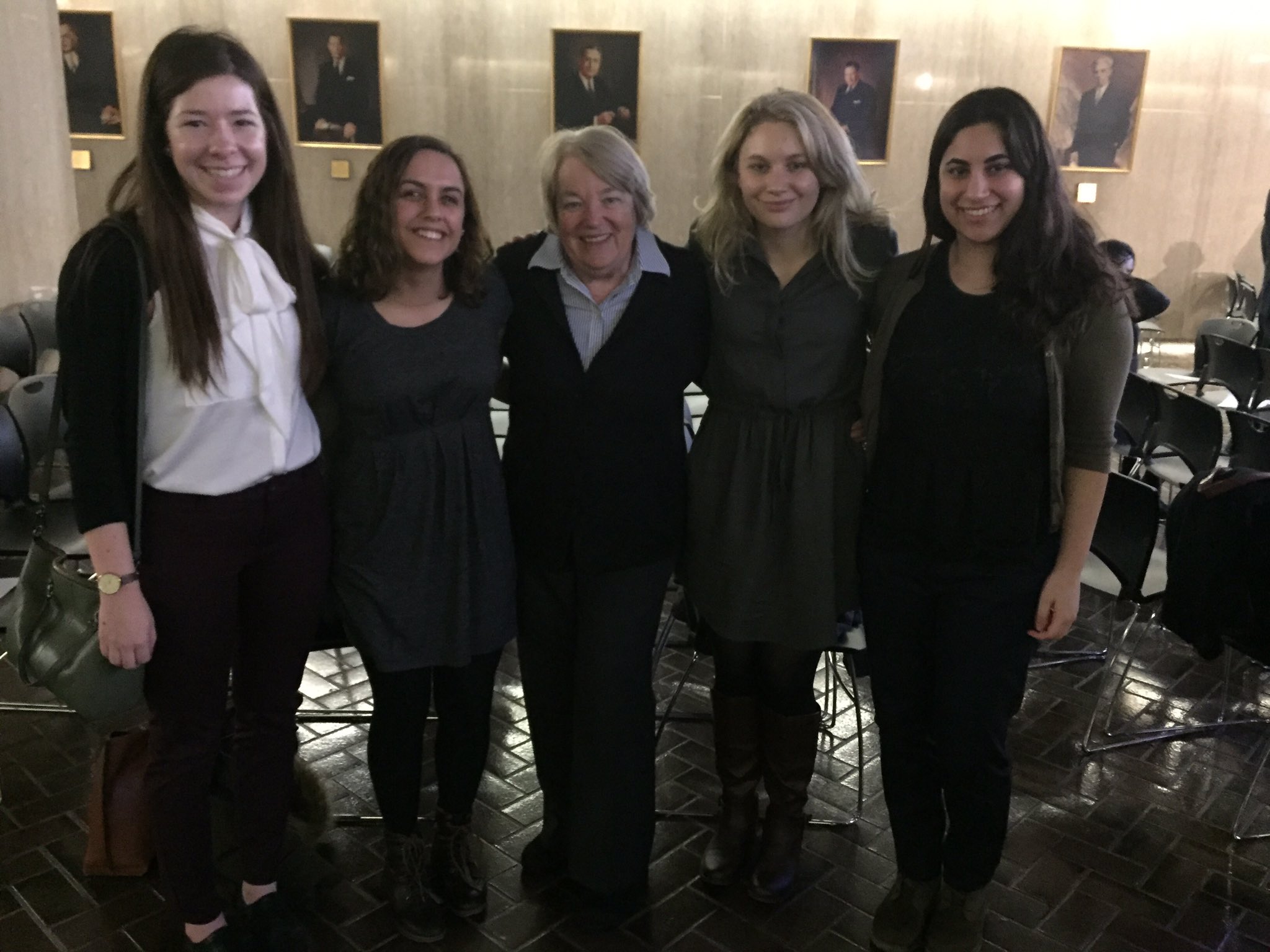 I was interested in FairVote and Representation2020 as soon as I read about them through the Swarthmore College externship program. I am a current junior at Swarthmore studying political science and psychology. Over a year ago, a professor discussed rank-choice voting in one of my classes, and I have been hooked on the idea ever since. Additionally, I am passionate about increasing female representation in elected office.
Coming from Washington State, I grew up idolizing Governor Christine Gregoire, Senator Patty Murray, and Senator Maria Cantwell - the first all-female gubernatorial/senatorial trio. However even in Washington, historically one of the most representative states, there is still a long way to go. The work that Representation2020 does to identify and eliminate the long-standing, structural barriers for female candidates on both sides of the aisle is essential.
Working as an intern on Capitol Hill last summer, I was both inspired by the direct community involvement our office was able to engage in, and discouraged by the political gridlock and lack of substantive change-making. While corresponding with constituents from a wide range of backgrounds and beliefs, I was reminded that many voices in our system are left unheard.
In such an inherently partisan environment as the U.S. Congress it becomes easy to disregard perspectives that differ from your own - something that defies the nature of what a representative democracy should be. This week at FairVote is an opportunity for me to better understand, in a nonpartisan environment, the historical and current climate of voting and representativeness in this country.
As a political science student, the specifics of voting methods and laws are often overlooked due to a focus on more abstract political theory. FairVote and Representation2020 both work to bridge the gap between democratization as a theoretical ideal and as a real-world practice. I hope that through this opportunity I can learn more about my own passions and skills as they relate to policy research and advocacy, as well as strategies that I can take with me to help spread the word about these important missions.
Ava Shafiei
Hello all! My name is Ava Shafiei and I will be a week-long extern at FairVote this winter. I am a current sophomore at Swarthmore College majoring in Political Science and Educational Studies with interests in international relations, electoral reform, rhetoric and composition, and educational policy. At Swarthmore I serve as a Writing Associate Fellow, a reporter for War News Radio, and the faculty and outreach coordinator for Women in Political Science (WiPS). I am Iranian-American and I live in the DC Suburbs (Vienna, VA).
I was interested in FairVote because of its work with gender parity and proportional representation systems such as ranked choice voting. Electoral reform is important to me because it demonstrates that American democracy can be continually reformed so that our leaders represent the public and are attuned to their constituents needs. It is often true that our systems and rules are standing in the way of fair representation, and my studies both in political science and education have provided me the tools to analyze the ways in with our institutions function in theory and in practice, reflecting on the ways in which state and society shape each other.
I am particularly interested in the Representation 2020 project due to my previous work and academic experiences. In the summer of 2014 I was a finance intern for John Foust's (D) campaign against Barbara Comstock (R).This local election quickly became national when Foust famously commented that Comstock had "never held a 'real' job" in her lifetime. This experience helped me see firsthand how the variable of gender plays out in the political sphere. While it may have soured my view of the current political climate, it also reinvigorated my interests in electoral reform. I saw these comments as symptoms of larger problems embedded in both our culture and even more importantly, our institutions. This experience has close applications to Representation 2020's findings on Republican women being particularly disadvantaged in the political sphere.
I brought my academic experiences (research, writing, and critical thinking) and my personal work experiences and perspectives (experiences in politics, my identity as a women of color) to the FairVote organization. I am pleased that I have learned more about FairVote, its projects, and the intersections between research, advocacy, and policy.
Morgin Goldberg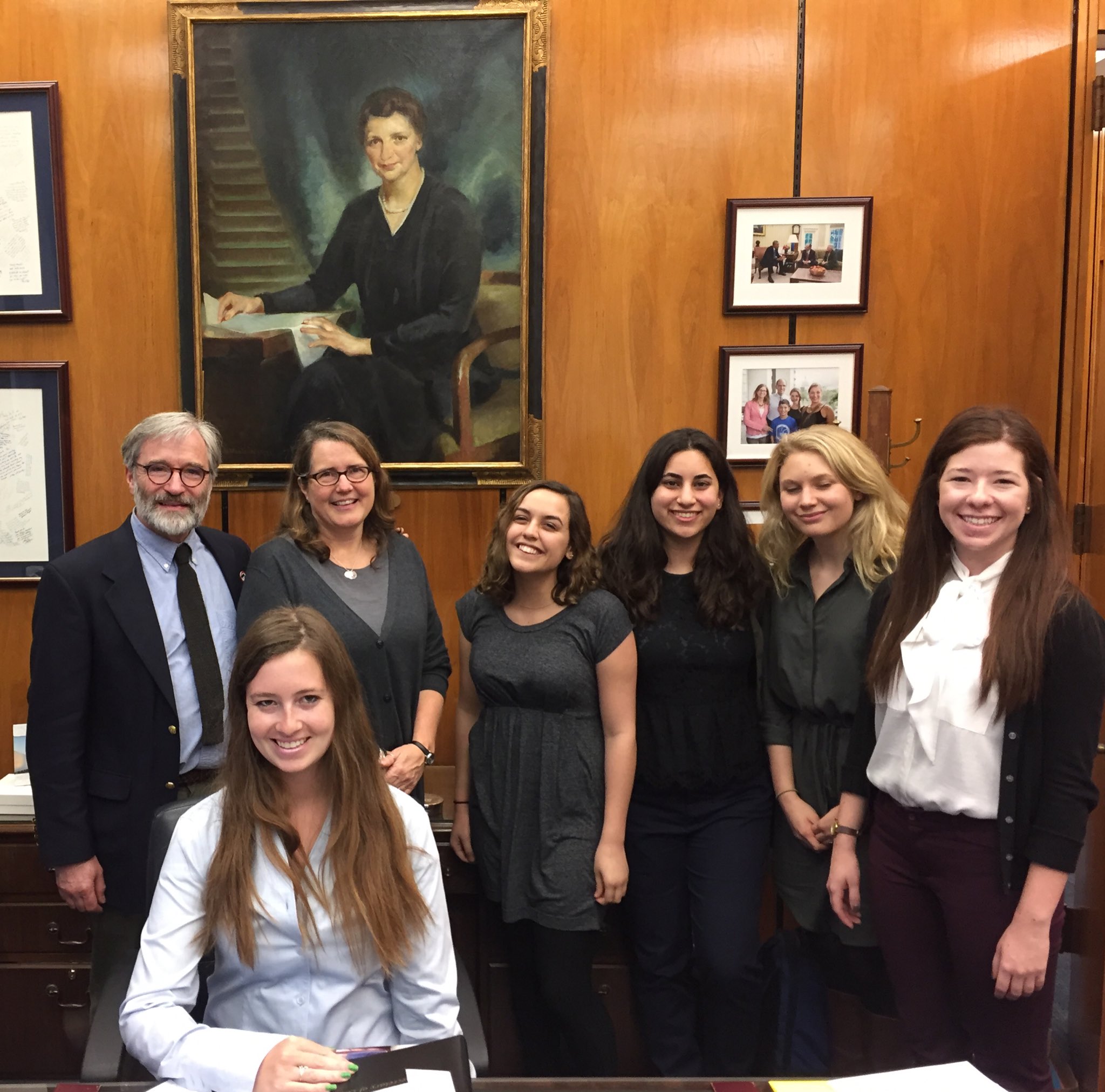 I'm a sophomore at Swarthmore College, hoping to graduate with a Sociology/Anthropology major with a minor in Political Science. I'm most passionate about intersectional gender justice, particularly as it concerns ending violence in its multitude of forms. At Swarthmore, I am involved in Title IX advocacy and sexual violence prevention work as well as campus journalism. I've worked at The League of Women Voters as well as The Legal Aid Society and I've really enjoyed seeing the different approaches used to achieve social change.
I was excited to be at FairVote this week, and especially to learn about Representation 20/20, because I think the best way
to ensure a national societal agenda of justice is to empower marginalized people in meaningful and material ways. Yet, as this election cycle has clarified and highlighted, the social, economic, and cultural barriers women and minority groups face in trying to gain equitable political power remain prohibitive as well as institutional. FairVote is working to reform our political system and reimagine the political bodies within it as to represent and amplify the diverse needs of citizens; if we can achieve these changes, the structures that create disparate outcomes will also shift towards justice. I am grateful to have a very small part in this important work, especially in the current political moment.
During my time here, I have come to be better understand how this kind of change happens and, especially, what kind of "ground-up" power can be built in order to achieve it. I think it's most important to remain hopeful about the future of electoral reform and social change of all kind, even in turbulent political times; to make real and lasting change, I see everyday citizens and their involvement in politics as holding the most potential. How can a disillusioned electorate regain energy and mobilize? What goals are most consequential and feasible right now? Which strategies will be most effective given inequality, polarization, and demographics?  I'm looking forward to gaining a sense of how the broader ideas of reform and restructuring can be translated into a political practice and activist strategy.